John L. Crow
In a used bookstore, this weekend, I found a copy of
The Re-Ascension of the Black Man's Mind: Coming Forth by RA
(1998) by Dr. Dana Dennard (a.k.a. Baba Kheper Ka Ra KaMau). Dr. Dennard, a licensed clinical psychologist in Tallahassee, Florida, and was a professor of psychology at Florida A & M University (FAMU) from 1990-1996 and currently adjuncts in the psychology department at FAMU. Dr. Dennard and his wife, Sharon Ames-Dennar, co-founded the Aakhet Center for Human Development, where they facilitate numerous rites of passage programs for African American men. Within his book, Dr. Dennard speaks of his mystical experiences encountering the Egyptian God, Ra, and his awakening to original African spirituality located in the ancient Egyptian texts. He speaks of first finding it in Budge's
The Egyptian Book of the Dead
, a.k.a. the
Book of Coming Forth By Day and Night
and then others. Coupled with this spiritual reawakening, Dr. Dennard speaks of how "the white people" have not only taken "the black man" from his land and family, but also his original spirituality, and that the path of spiritual awakening for the Black Man "is not a return to 'church' or these religions that white culture has contaminated," but instead a new world order and age that will be a "different order than the plan currently being orchestrated by the satanic faction of the Masonic Order of secret white societies." In addition to these points, he discusses out-of-body travel, makes claims about the original Egyptian or Kemetic religion, discusses genetics, and ultimately denounces Christianity and Islam. All the while promoting the spiritual and liberating properties of the Light of RA.
When reading Dr. Dennard's book, I was struck with just how much he has in common with many of the 19th and 20th century esoteric groups and individuals I study. While it is true they frequently come to different conclusions about race, it is hard to miss the central focus on Egypt as a source of ancient wisdom (gnosis), the adoption of Egyptian language and symbolism, the focus on race and genetics as an indication of human advancement, discussions of astral and out-of-body traveling, Freemasonry (pro or con), conspiracy theories, and in later esoteric traditions, assertions of UFO and alien-human interaction.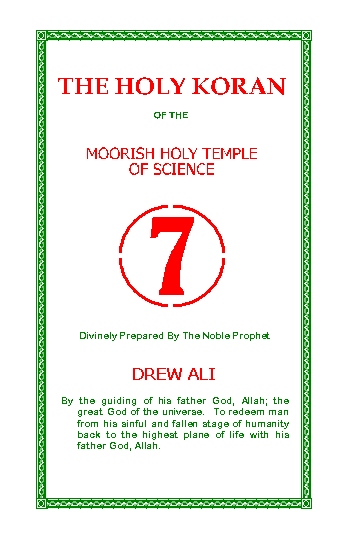 The unfortunate part, however, is that few scholars of religion are focusing on these traditions, although I will discuss a few who are below. Moreover, when scholars of religion do investigate some of the older forms of these traditions, such as Moorish Science, unfortunately they are unaware of the more recent research into occultism and esotericism which would help them better understand the traditions. For instance the Moorish Temple's
Circle Seven Koran
is composed of excerpts from
The Aquarian Age Gospel of Jesus, the Christ of the Piscean Age
(1908), a text deriving from Theosophy and Guy Ballard's I AM, and Sri Ramatherio's (a pseudonym for Spencer Lewis),
Unto Thee I Grant
(1925), a Rosicrucian text written by the founder of AMORC (The Ancient Mystical Order Rosae Crucis). Probably the best scholar to investigate this subject is Susan Nance. While her efforts are admirable, it is clear that her research into these esoteric side of these traditions was limited. Exploring the depth of these connections and influences is all the more important when so many subsequent African American religious movements have been based on the Moorish Temple.